Hampstead's Favourite (and only) Local Satirical Magazine...
There is a thick line between 'fake news' and satire, which the Hampstead Village Voice prances merrily along in its autumn edition. Please use whatever's left of your non-device-directed intelligence to decipher on which side of this gargantuan, ridiculously obvious, thick red line it is and enjoy Hampstonia's war with Belsize Parkistan - only in the Hampstead Village Voice, out NOW! £2.50.

THE BUMPER, 44-PAGE AUTUMN EDITION IS IN SHOPS NOW FOR THE PRICE OF A CAPPUCCINO £2.50

"Required breakfast reading is the latest issue of Hampstead's revered satirical rag, the Hampstead Village Voice..." - The New York Times 26/09/2013.
Where to buy it for £2.50
Although still reporting almost exclusively on matters Hampstonian, the HVV is now available at over 80 outlets in Hampstead and Saff End Green and such exotic foreign lands as Belsize Parkistan, the Soviet Gulag of Whampers, Al-HighQuaida (The Evil Axis of Highgate & Archway), Primrosia, The Wood of Singeon and the Union of Soviet Scamden Republics. -Ed. Splitters!

Complimentary Copies
Once local shops have been given a month to sell the magazine at £2, any returns are distributed to cafes, pubs, hotels, libraries, cinemas, theatres and other public places. A further 3,000 magazines are distributed throughout the Metropolitan Borough of Hampstead, i.e. Hampstead, West Hampstead, South Hampstead, South End Green, Belsize Park and Primrose Hill by ourselves and A.S.A. doorstep distribution Ltd. Doors with "No Junkmail" and the gnashing of frothing Rotweiler's teeth behind letterboxes will be avoided.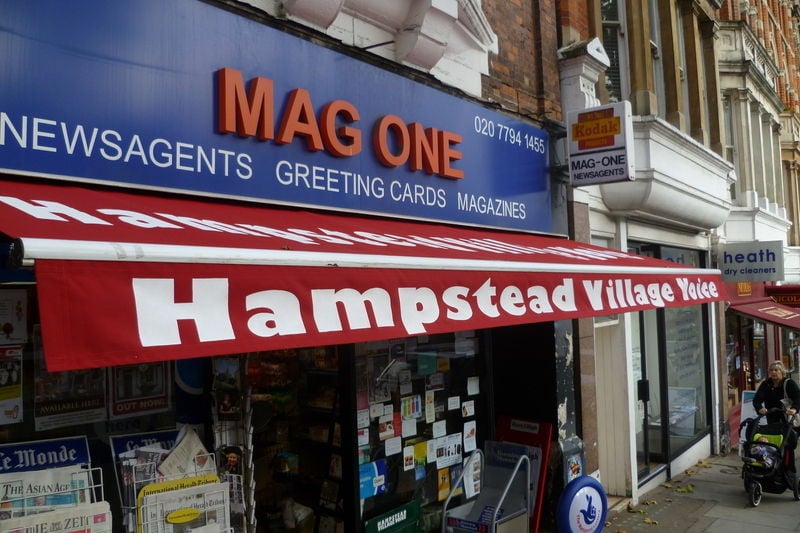 The Slightly Crappy Online Edition

And for all those ex-pat Hampstonians and tablet junkies, we are introducing an online edition to be released after 'proper' hard copy publication, so that no one - not even the bosses at Scamden Council; the CEO of Tesco-Stressco; the Business Improvement Daleks (Splitters!) or the Prime Minister of Airstrip One need be deprived of Hampstonia's favourite local, satirical magazine and the ghastly truths it exposes.
WARNING: this online version is purposfully crappy and lackadaisical to encourage readers to spend their £2 on the real thing. Please help to save your local newsagent from death-by-Tescopoly for a mere two-squid.
Check out some Archive action Click Here!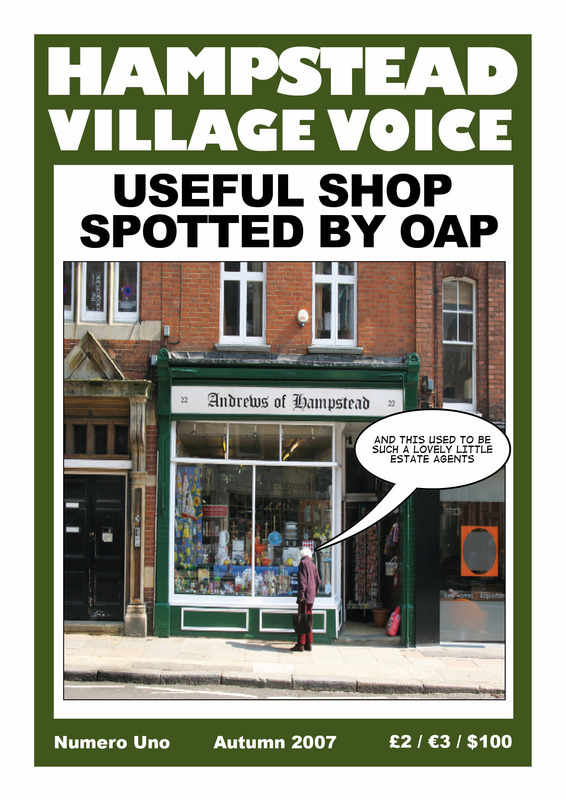 Read mouldy old editions Here
Toodle-pip and Viva Hampstonia, land of the not so free!
Emmanuel 'Mustafa' Goldstein.
Editor and sworn adversary of Big Brother (Both Orwellian and televisual).
Terms & Conditions do not apply.
Consult your pharmacist if you must.
CONTACT: info@hampsteadvillagevoice.com
Visit the occasional Editor's Blog

loading...