The Joy of Addiction
THE JOY OF ADDICTION
Confessions of a teenage wastrel
a book by Sebastian Wocker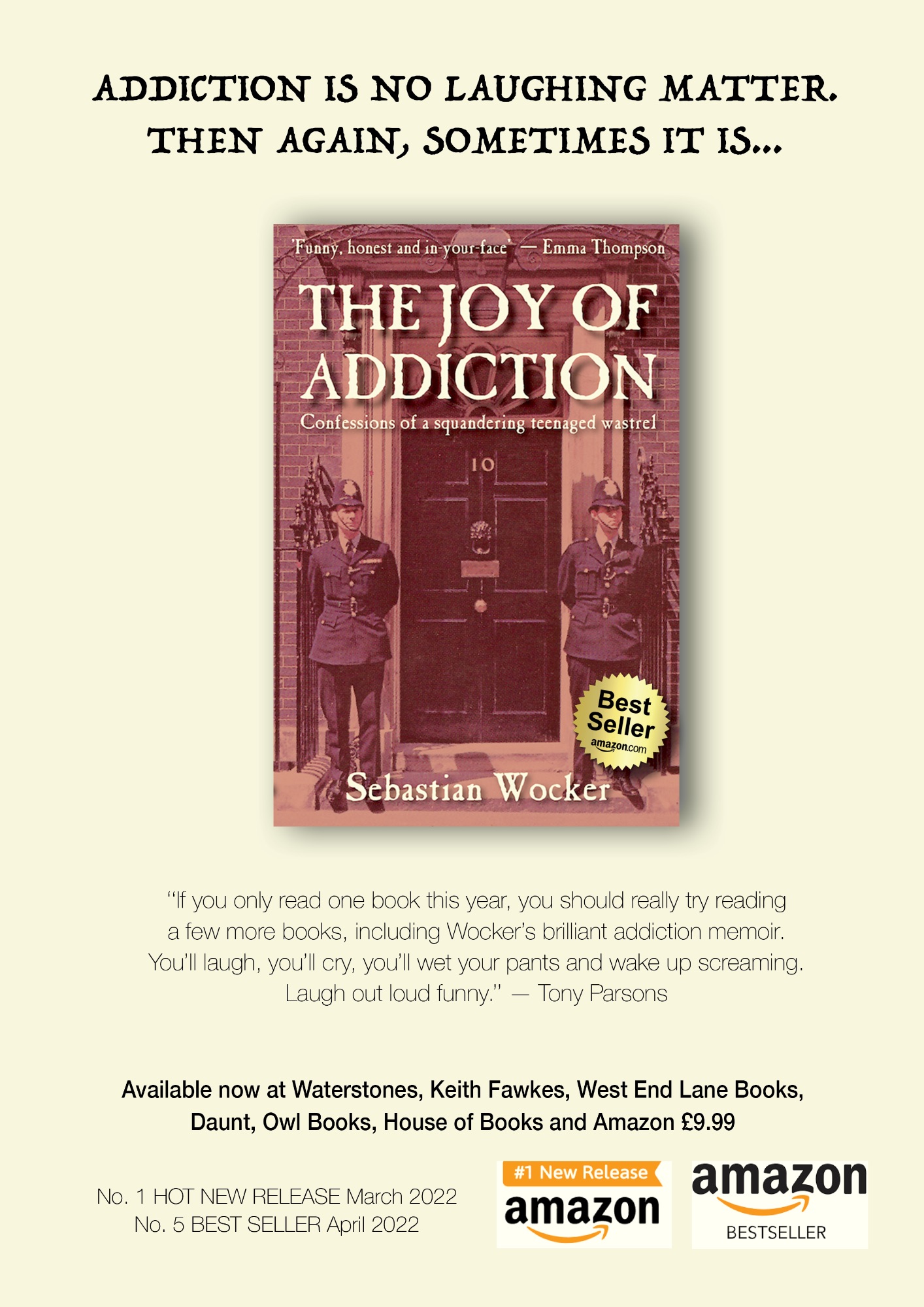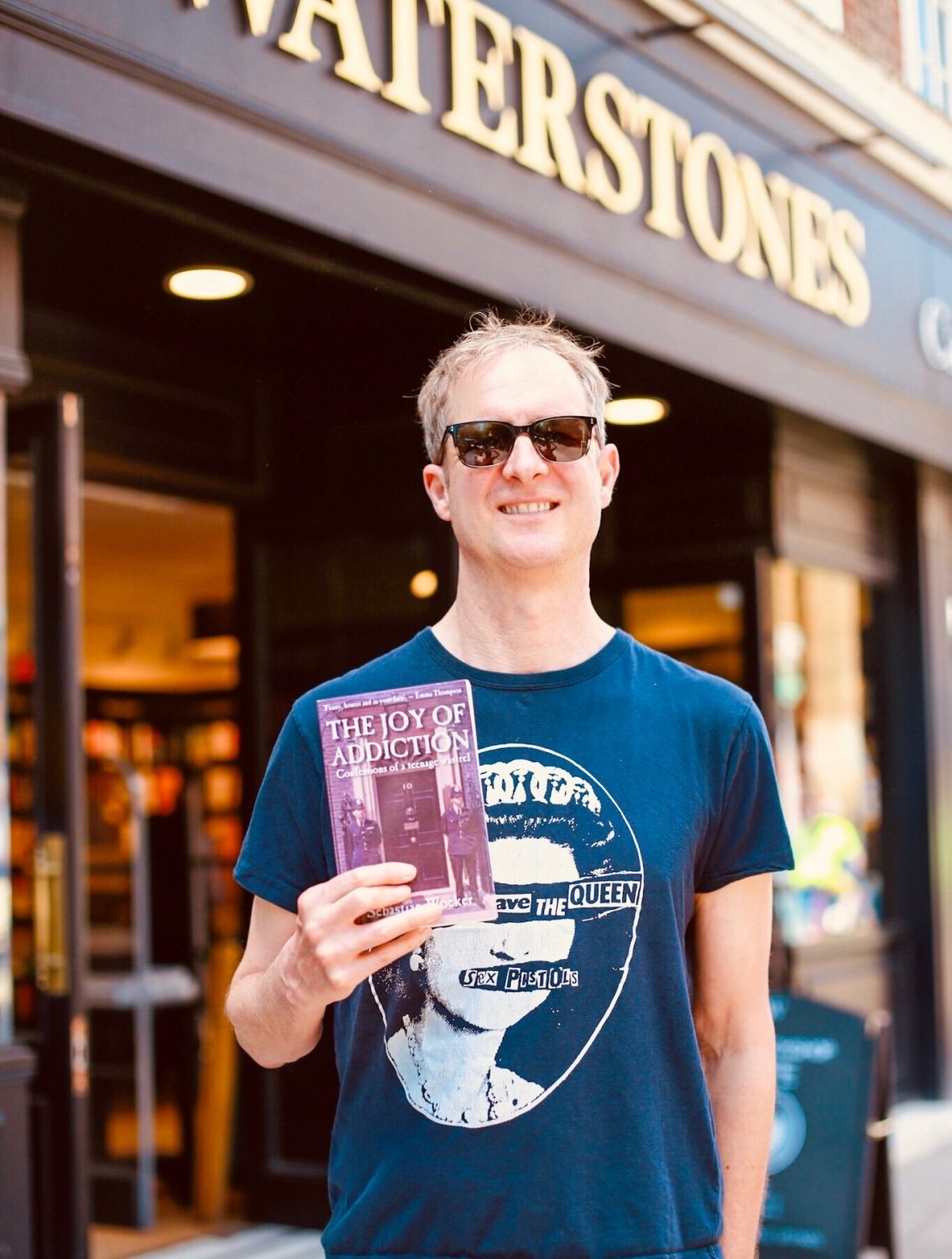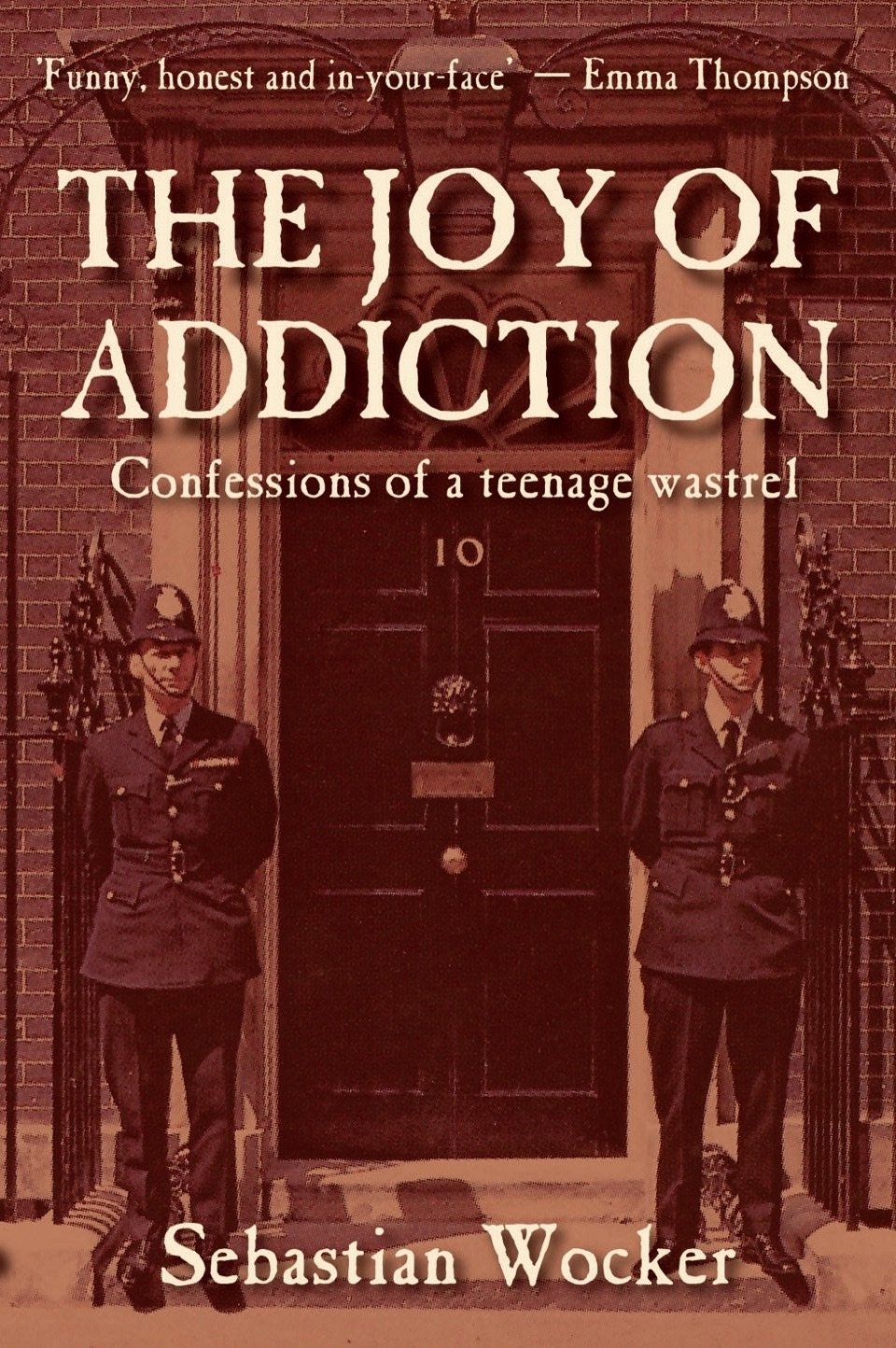 The Joy of Addiction: No.1 in Amazon's Hot New Release chart and No.5 in its Bestseller chart.
'Like its author, this is funny, honest and in-your-face. A great and enlightening and helpful read for anyone who thinks: 'I only drink on weekends' makes them less of an addict. I include myself in that category.'
— Emma Thompson
'If you only read one book this year, you should really try reading a few more books, including Wocker's brilliant addiction memoir. You'll laugh, you'll cry, you'll wet your pants and wake up screaming. Laugh out loud funny…'
— Tony Parsons
'A fun, enlightening and easy read…'
— Matthew Wright
The Joy of Addiction is available to order at all bookshops worldwide and in stock now at:
Keith Fawkes Books (Hampstead)
West End Lane Books (West Hampstead)
Daunt Books (Hampstead and Belsize Park)
Owl Books (Kentish Town)
House of Books (West Hampstead)
Amazon and all online bookstores
Buy The Joy of Addiction online from Amazon here NOW!
Micro Synopsis
Set in London, Amsterdam, New York, Berlin, Hamburg, Freiburg, Barcelona, Almeria, Nice, Tangier and somewhere called Niedereggenen, the Joy of Addiction is a stranger-than-fiction, tragicomedy about a teenager who hurtles into the abyss of drug and alcohol dependency. It is a true story with an invaluable message of recovery and unblinking insight into the mind of a young, suffering addict. Here's a little taster:
Introduction
Mahatma Gandhi once made a full confession as to the misdeeds of his youth. But, as George Orwell observed in his Reflections on Gandhi, there wasn't really much for him to confess. Orwell concluded that Gandhi's sins, when quantified fiscally, amounted to around £5.
'A few cigarettes, a mouthful of meat, a few annas pilfered in childhood from the maidservant, two visits to a brothel (on each occasion he got away without doing anything), one narrowly escaped lapse with his landlady in Plymouth, one outburst of temper — that is about the whole collection.'
Alas, the same cannot be said of yours truly. As you're about to discover, my sins were many and varied and all, in my humble opinion, the result of a nasty little condition called addiction. Not that he'd be interested, but were he alive to quantify my sins, Mr. Orwell would certainly have had to add a few zeros to Gandhi's humble fiver.
Most recovering addicts like to refer to addiction as a disease. The dictionary refers to it as a condition. Many recovering alcoholics call it a malady. But whatever label you give it, one thing is certain: it's a right slippery fucker. For, once it has taken hold, it will set about destroying the addict and, not satisfied with that, all those around them.
Addiction is everywhere. It affects every corner of society. From the young mother smoking super-skunk as her neglected baby cries, to the drink-driver crashing into a bus stop, to the junky ripping off family and friends — all these little 'terrorists' qualify as suffering addicts. Then there are the big terrorists: actual fundamentalist terrorists; ego driven presidents; idiotic prime ministers and money-grabbing, corporate bread-heads — they too are addicts of a sort. None of them think they are but, of course, the main symptom of addiction is to convince the suffering addict they don't have it.
As for myself, I was just your run-of-the-mill, teenager drug addict-alcoholic. I took as many drugs as I could lay my grubby little paws on and committed various unspeakable acts in order to feed my addiction, hurting myself and others in the process.
Happily, once I'd truly admitted to the hitherto unpleasant reality of my own personal problem and surrendered to the joy of addiction, not only did this crippling condition cease to be a living nightmare, it actually became a source of immense joy, personal growth and wisdom.
It's a paradox but finding out I was an addict was the best thing that ever happened to me. There are, however, three essential prerequisites to realising this joy of addiction:
One: I needed to admit to myself that I was an addict.
Two: I had to remain totally abstinent from all forms of mood-altering chemicals, including alcohol.
Three: I needed to — and still need to — turn up and chuck a little effort towards some sort of recovery programme. Because much of the time, due to the nature of the beast, I simply forget that I am an addict.
Like many addicts, I have it in my locker to be a greedy, self-centred, narcissistic, anxiety-ridden, arrogant, foolish, money-grubbing, judgmental, workaholic, lazy little rotter — and that's clean and sober. You can't imagine what I was like when I was using drugs — and you don't have to, because I'm about to tell you.
To respect and protect the characters in this book, most of the names have been changed; even pubs and street names. Because the following occurred mostly between 1979 and 1988, whilst I was in active addiction, the chronology is all over the place. I can remember exactly what, but not necessarily when, it all happened — but it did all happen. Well, mostly.
If I have one hope for this book, apart from raising a few smiles, it is that it might, possibly, save or improve a life. If one suffering addict identifies enough with my story to admit to himself or herself that they are an addict and embarks on recovery from addiction, then this book will have been worthwhile.
To friends and family suffering the collateral damage of someone else's addiction, my hope is the book will give a first-hand insight into the mindset of a using addict and how it is possible for anyone to get clean, stay clean and live a healthy and productive life.
I'm no Mahatma Gandhi — not by a long chalk. Yet since becoming clean and sober and practicing a few simple principles, I have experienced several substantial moments of true joy, awareness and being present in the now. And, as you'll discover whilst reading The Joy of Addiction, after the shit-show of a life I led whilst using drugs, that's no mean feat.
But to know joy, one must also know pain. So, let's leave the now and visit north London, somewhere in the 1980s.
The Joy of Addiction is available at good bookstores worldwide and on Amazon, KDP and all online outlets from 02/02/2022. Paperback £9.99 Ebook £7.99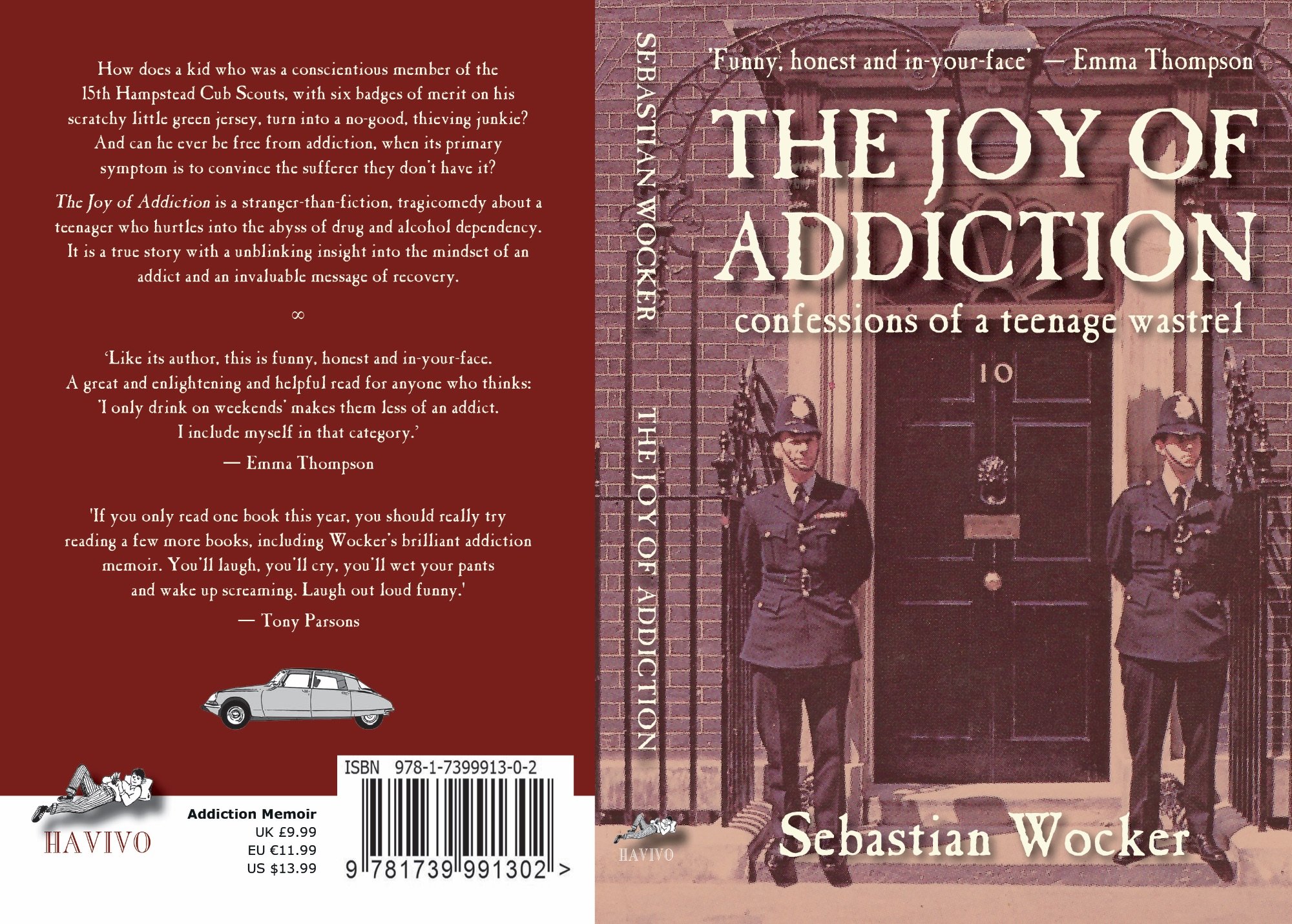 The Joy of Addiction is available at bookstores worldwide, Amazon KDP and all online outlets NOW!
Twitter: @ joyofaddiction | Facebook and Instagram: @ joyofaddiction
What The Papers Say...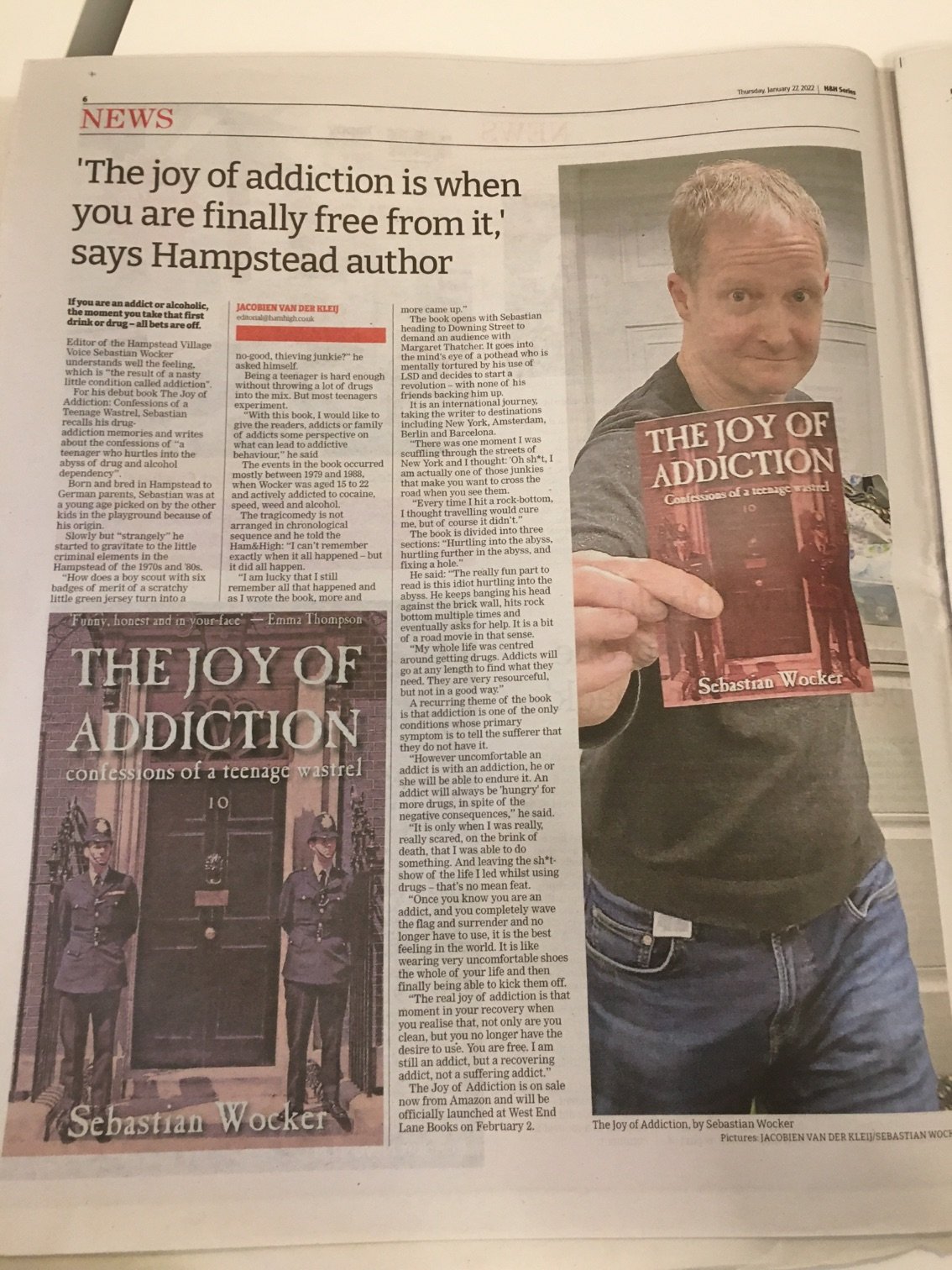 The interview in the Ham&High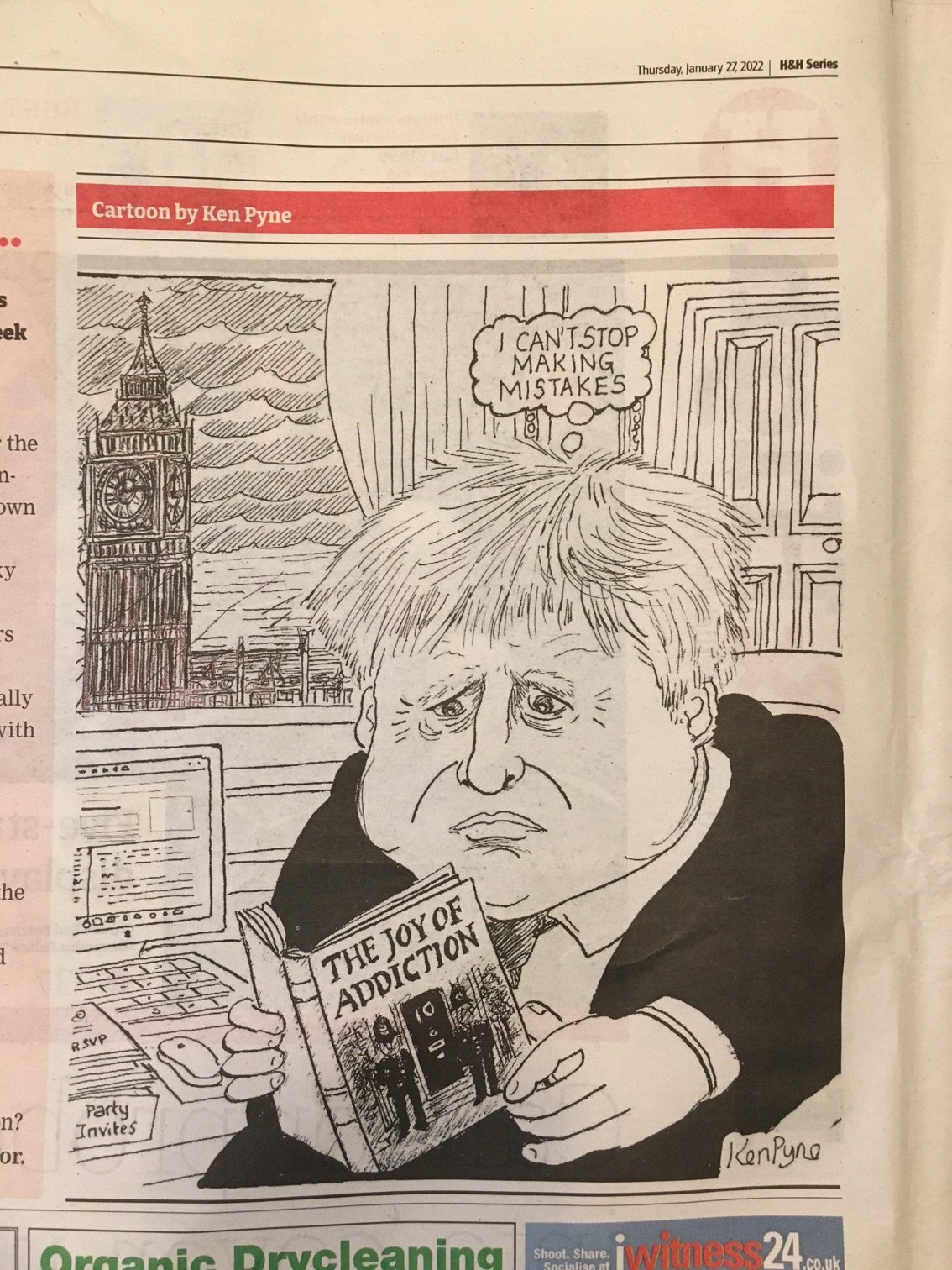 A reference to 'idiot prime ministers' in the introduction seems to have inspired Private Eye and Ham & High cartoonist Ken Pyne.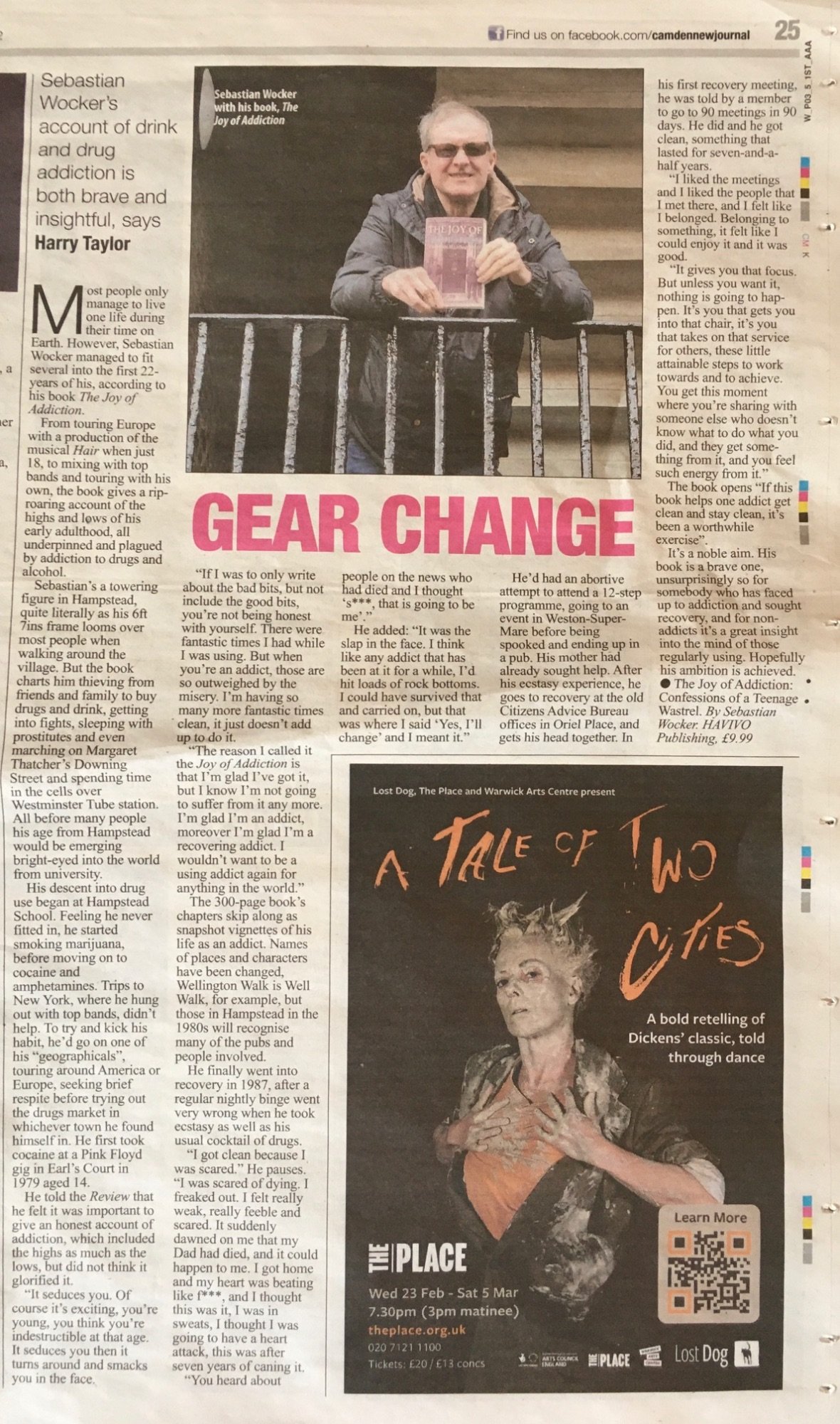 Harry Taylor's review in the Camden New Journal
Buy The Joy of Addiction, the No.1 Amazon Hot New Release NOW!
Also available at Waterstones, West End Lane Books, Daunt Books, Barnes & Noble
and available to order at all good bookshops worldwide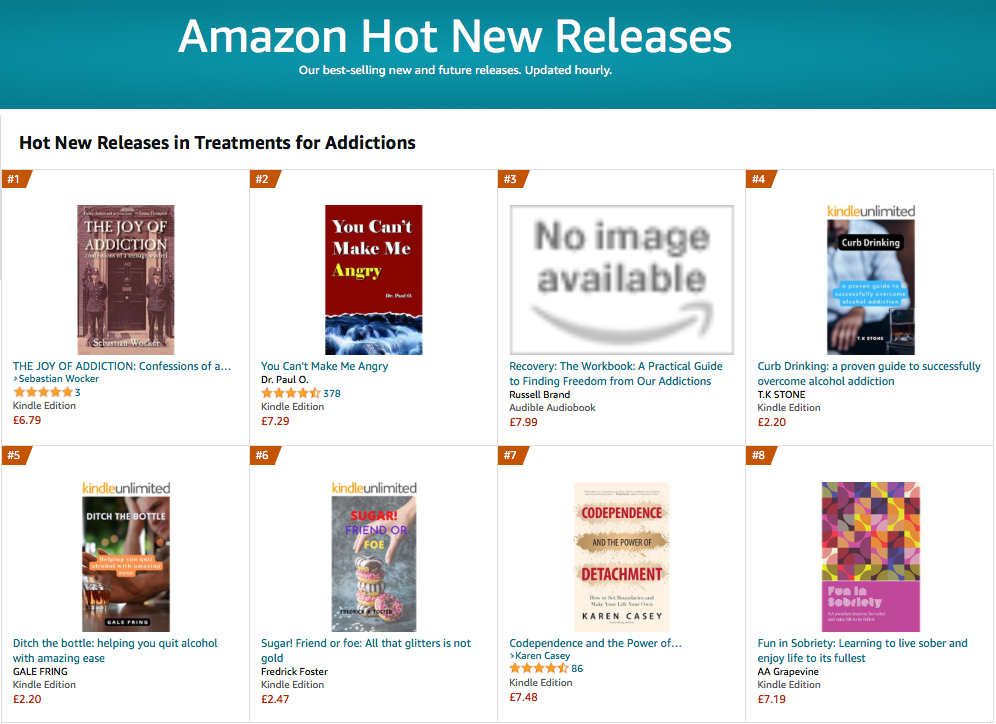 *****
HAMPSTEAD FACES VOLUME 1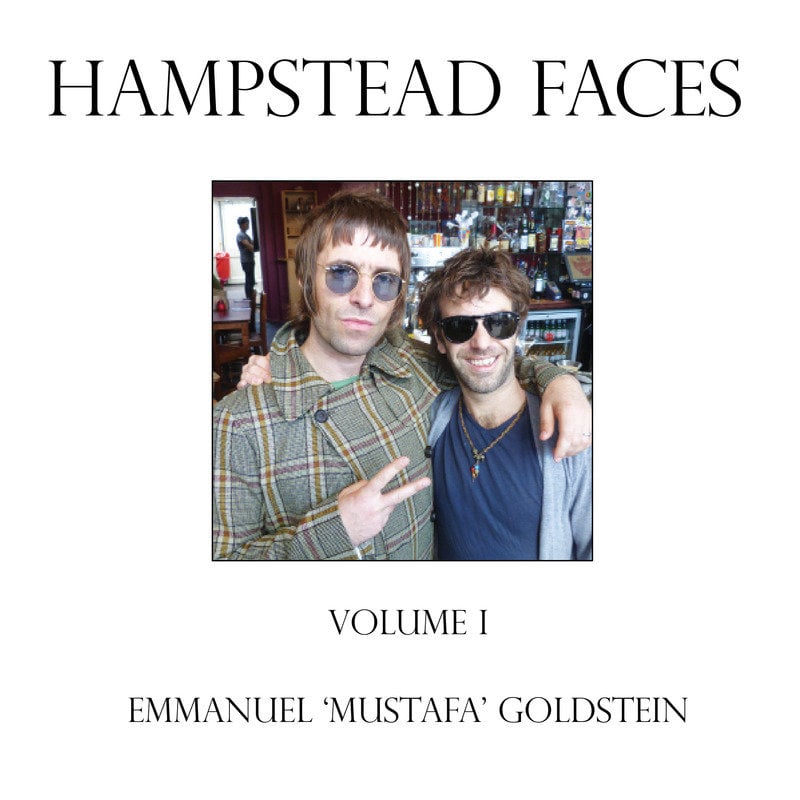 Where to buy Hampstead Faces now £10
Village News: 14 Heath Street, NW3 Tel: 020 7794 5212
West End Lane Books: 277 West End Lane NW6 Tel: 020 7431 3770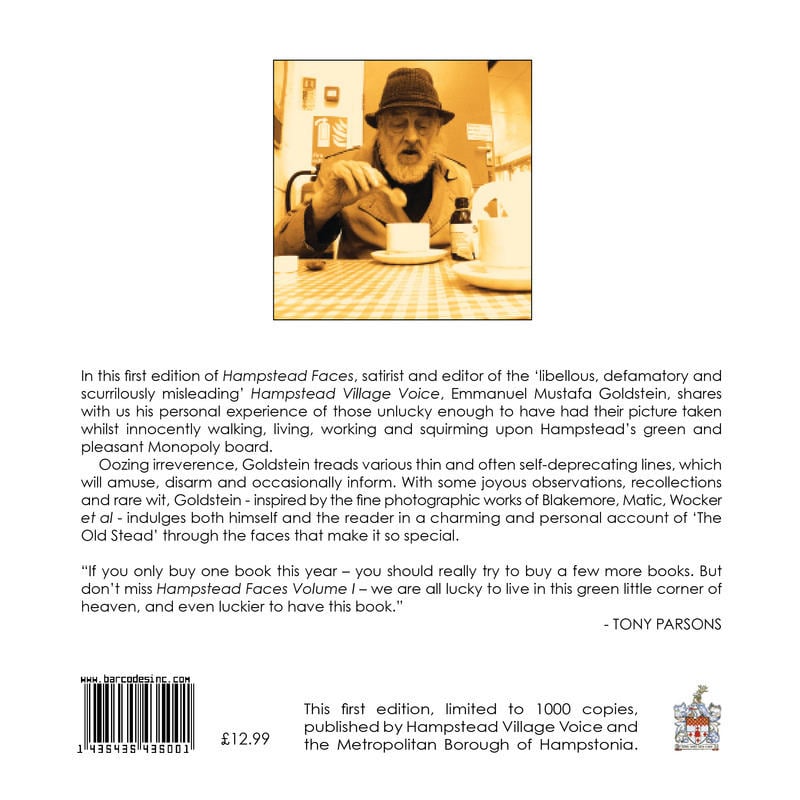 Bronco takes pride of place on the back page and on page 27 of Hampstead Faces, Volume I.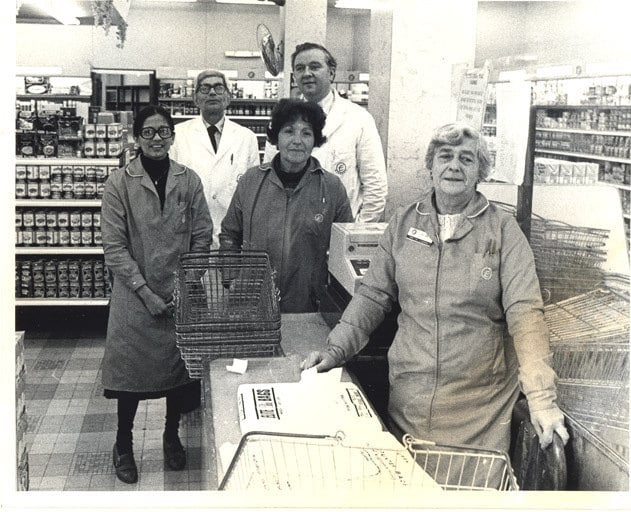 The Express Dairy, Heath Street, 1982 by Conrad Blakemore appears on page 10 & 11 of Hampstead Faces.
PRESS: Camden New Journal
Published:

17 October, 2013

by RICHARD OSLEY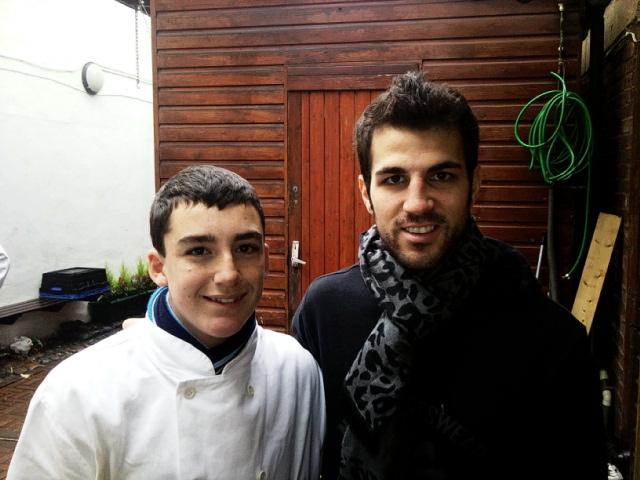 MAYBE this is the last desperate gasp of what Hampstead was about," says Emmanuel 'Mustafa' Goldstein, editor of Hampstead Village Voice, a sort of Private Eye-zine for NW3.
"It might be the last chance for Hampstead, before it becomes too developed, too oligarch-y," he says. "There is a still a bit of Hampstead which is like it was and what we've been trying to do is show that before it is too late. It wasn't always about people who had too much money that they didn't know what to do with themselves."
Hampstead oligarchs are a pet hate for Goldstein. When an upmarket coffee chain opened in NW3 earlier this year, charging more than £3.50 for a cappuccino, he reports: "When I went in there to introduce myself, there was only one oligarch in there. Empty, apart from one oligarch."
His pushbike world view zaps the oligarchs, while giving preference to Hampstead's characters sharing stories about its characterful streets in a characterful pub over a characterful ale.
And that's where Hampstead Faces Volume One, launched on Tuesday, comes in. It's a compendium of Hampstead's non-oligarchs: a picturebook of enduring small businesses that have survived the arrival of Tesco, alongside a collection of unpredictable freewheelers washed up by the High Street, masterful storytellers like Rainbow George and Bronco John, those unfathomable old associates of Peter Cook.
Goldstein writes: "Bronco always maintained, if he ever entered the Royal Free Hospital it would kill him. True to his word, he died on his first visit there in January 2005 with over £5,000 in used notes in his famous carrier bags. Had he lived to be a hundred he'd never have spent it: only in Hampstead."
It is impossible to flick through the book without landing on former stock-broker Ranjit Bolt's page too, bare-chested and proud.
"Bolty has an OBE," says Goldstein. "Look at that picture. He is highly thought of. You'd see him with no top on, he didn't care, or he'd come out in just his pyjamas. And that bag he is holding, he'd made himself out of paper."
Added into the Faces is a healthy share of celebrities who have made Hampstead their home, but here they are not papped as they stroll the streets. They are photographed – with permission – alongside the local traders they buy from.
Denise Van Outen hugs Ricky the greengrocer. Liam Gallagher embraces Tim Garrett, once behind the bar at the Rosslyn Arms. Cesc Fabregas poses with Ryan Theodorou at Hampstead Seafoods, presumably to the horror of his Spurs-supporting father and uncle.
Lisa Stansfield looks up from a stolen fag at the Ye Olde White Bear, Robert Powell is simply watching a pub telly.
Goldstein says: "These people shouldn't be followed by paparazzis all around Hampstead. The one with Denise Van Outen, she was being pursued, so I started taking pictures of the paparazzis instead of her. They didn't like that at all, they didn't like it the other way around. It made Denise laugh and afterwards she had her picture taken with Ricky. We decided then that we'd always ask before taking a picture and the only person so far to say no is the old England goalkeeper Robert Green. But he wasn't having a great time at the time, so that was up to him."
His magazine rails against "Scamden Council", sometimes ribs the local papers and gently mocks Hampstead's councillors, with a particularly penchant for Lib Dem Linda Chung, who Goldstein claims to be the most photographed woman in NW3. In his final page, he says he has had to leave her out of the book in favour of a picture of Stevie Wonder.
But maybe there is one face that is missing from the book. Goldstein himself. A man of basketball-player height, cycling around Hampstead's hills on a bike not much bigger than a Brompton, he has the requisite amount of zaniness to qualify without reservation.
Maybe modesty got the better of him, but his charter that Hampstead's charm should not be lost to chain coffee shops and big business runs through the Village Voice and the book regardless.
Goldstein says: "People say you have to be rich to live in Hampstead but you don't have to subscribe to Sky Sports or drink £3.60 cappuccinos. You can live a frugal life, not that the lettings agencies want that. People are being stopped from living there by estate agents who want to see all of your bank account statements – it's none of their business if you pay your rent on time how you spend your money – or people are being developed out as landlords expand their properties, turning your home into a construction site as they do it and forcing you to move. It's happened to me. Hampstead Faces is a desperate gasp saying it doesn't all have to change."
----
Ham&High
Liam Gallagher, Jonathan Ross and Russell Brand feature in new Hampstead Faces book
Published: 24 October, 2013 by HEATHMAN
If you want to guarantee sales for a new book about Hampstead, featuring half its population is probably a good place to start.
It's also a sure-fire way to get a healthy turnout at your launch, as the writer of Hampstead's very own answer to Private Eye, the Hampstead Village Voice, can attest.
The launch of Hampstead Faces Volume 1, the magazine's book spin-off, was held upstairs at Waterstones in Hampstead High Street and attracted a large assemblage of local folk, including many who featured in the book's pages.
A quirky snapshot of Hampstead life, it comprises nearly 100 pages of photos of the people who help make the place what it is, alongside written profiles of each penned by Village Voice writer Emmanuel 'Mustafa' Goldstein.
The likes of Jonathan Ross, Liam Gallagher, Russell Brand and Patrick Vieira, most of whom Mr Goldstein has apparently spotted roaming the streets and promptly accosted for a photo, are included alongside others who are less internationally-renowned, but just as familiar to many Hampstead denizens.
These include Gabrielle du Ploy, owner of Zebra One Gallery in Perrin's Walk, "Rainbow" George Weiss, who is something like Hampstead's answer to Screaming Lord Sutch, and the Ham&High's long-serving photographer Nigel Sutton.
Mr Goldstein, who has been known to have the odd pop at the Ham&High, said the book came out of the regular Hampstead Faces page in his magazine, which is approaching its 20th edition.
"Over a period of time, quite a few famous people appeared in it," he said,
"What's nice about that page, you might have Rob the fisherman and Russell Brand on the same page.
"It's a nice leveller, everyone gets their there little bit."
He added: "That's the idea of the Village Voice – to get some community cohesion, because Hampstead is becoming a bit of a Monopoly board for developers and the super rich
"It's not traditionally like that. The dynamic of Hampstead has changed a lot, it's become a bit elitist. But there is still a strong community here and the idea is to try and keep that going."
The Times
"Although very entertaining, it's unlikely that we'll be reviewing it. A touch too local. Sorry about that...."
— Robbie Millen, The Times.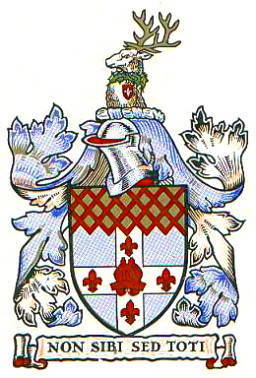 HAMPSTEAD FACES VOLUME I is Published by The Metropolitan Borough of Hampstead