Campaigns
The Pub is OPEN! Repeat... The Pub is OPEN! One small step for polar bears, one giant leap for Hampstead kind!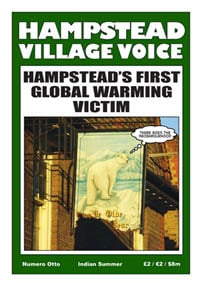 The renewal of it's ACV and therefore it's eventual reopening was in no small part down to the overwhelming response from the pub's amazing supporters - over 800 of you responded to the survey sent out in December asking if you would return to the pub if it were to re-open (98.2% of you said Yes!).

In addition, just under 600 people wrote persuasive responses as to why the pub continues to matter so much to the local community.

We also have to thank our three local Councillors who submitted a very powerful letter of support which convincingly argued that, despite being closed for five years, the pub is still essential to Hampstead village.

Finally, we are very grateful for strong press support from the Camden New Journal, Ham & High and the Hampstead Village Voice (see below for recent coverage).
See John Graham's Pubwatch, the online edition for more.
Campaign's current Status: Pub Open. Victory, Glory and Joy!!
The Hampstead Village BID extortion mafia — Removal thereof.
After five years of campaigning hard to get rid of the BID, well, we'll just leave this here shall we...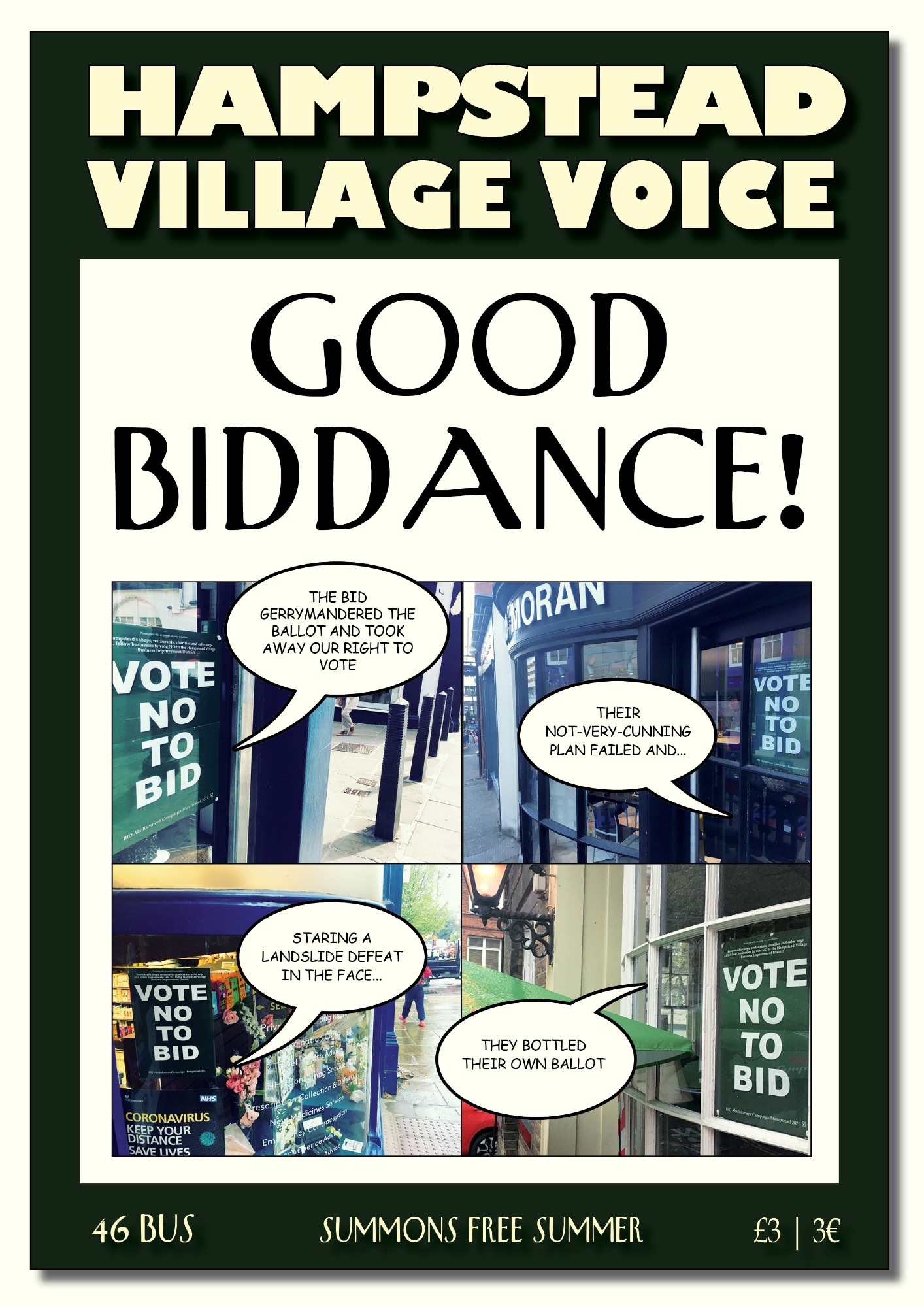 Full story on our online edition page.
Campaign's current status: BID VANQUISHED. Victory, Glory and Joy of joys!! (F***ing YES!)
STOP TESCO BREAKING THE LAW
https://you.38degrees.org.uk/petitions/stop-tesco-breaking-the-law

Tesco's HGV in West Hampstead parks on a bicycle lane daily, forcing traffic onto the wrong side of the road and is clearly a danger.
OUR OBJECTIVES:
We demand that Tesco's heavy goods vehicles (HGVs) cease parking illegally on Heath Street, England's Lane and West End Lane and that Camden Council and/or the Mayor of London/TfL take effective action to force them to do so.
WHY IS THIS IMPORTANT?
Tesco's huge delivery trucks repeatedly break the law on a daily basis. This forces traffic onto the wrong side of the road endangering other drivers, pedestrians and cyclists. It also causes congestion slowing down and hindering emergency vehicles and public transport.
Camden Council's current policy of fining the company is simply not credible nor is it effective and action needs to be taken to ensure Tesco HGVs are no longer a serious risk or hinderance to the lives of citizens.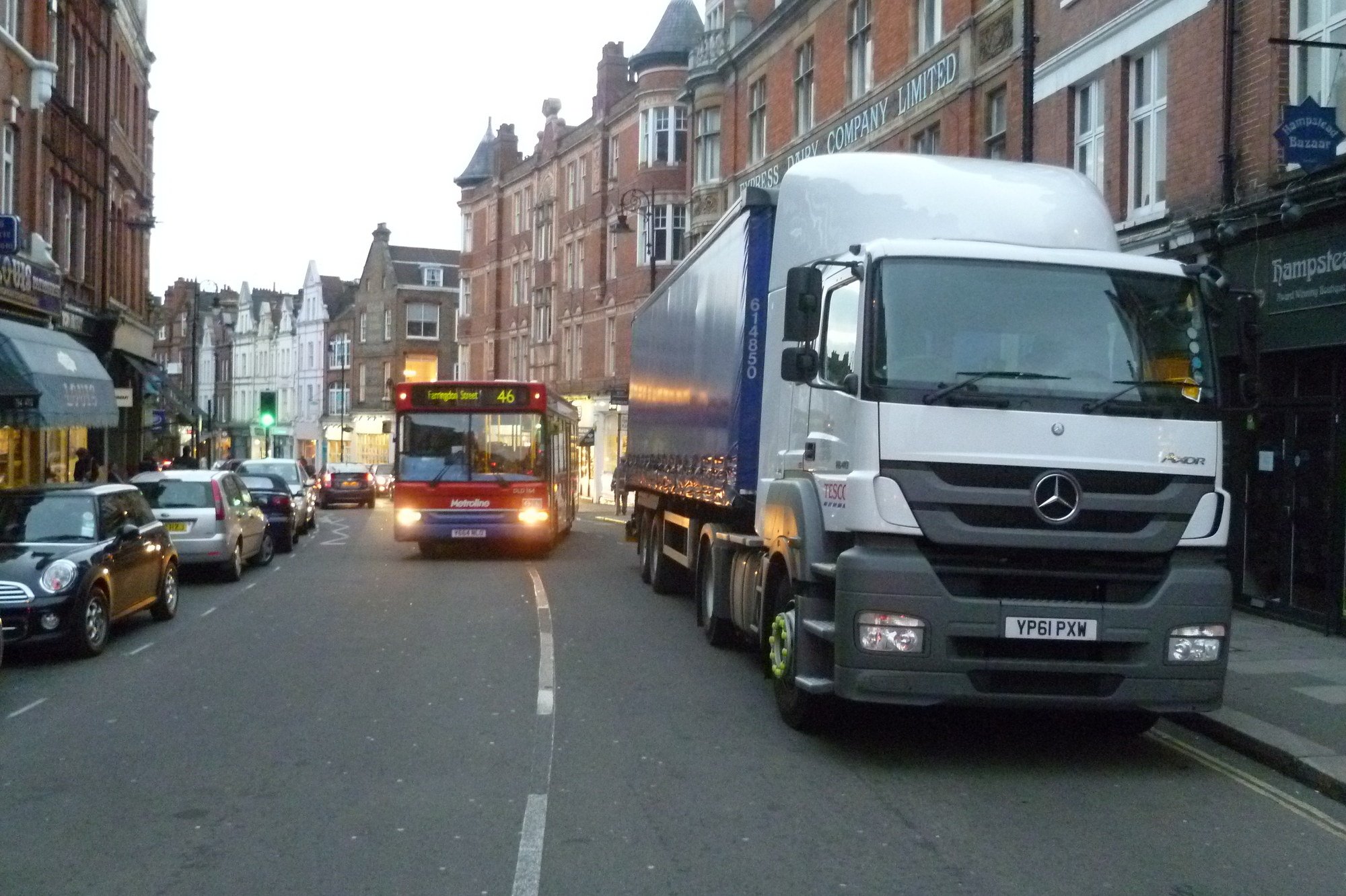 Heath Street, Hampstead: clearly too wide, the Tesco truck forces buses, ambulances and all other traffic onto the wrong side of the road. Inexplicably, the company refuses to use the Express Dairy Building's purpose-built delivery area at the back of the store. Why?
CLICK HERE TO SIGN:
https://you.38degrees.org.uk/petitions/stop-tesco-breaking-the-law
Campaign's current Status: Still Being Ignored by Tesco and Authorities

-----
SAVE HAMPSTEAD HEATH PETITION (CLOSED)
LATEST: This petition received 6,000 signatures and was handed to Tulip Siddiq MP on Thursday the 24th of September 2015 and sent to the Secretary of State for the Environment, Elizabeth Truss who wrote back to Tulip Siddiq. The contents of her reply to our MP was published in the 2016 Spring edition of the Hampstead Village Voice. Needless to say, Ms. Truss evaded, ducked and dived and tried to place all responsibilty with Camden Council and the City of London Corporation. I think they call it delegation... Or just not taking responsibility. Frankly she was useless and I dare say rather happy that Bam Nuttall, Atkins and AECOM made loads of dosh to parkify the Heath. And now there are a load of pointless dams and a stupid looking island... Oh, and a curb at the Vale of Health. Try not to trip over it. I hope f-ing Truss does!
CLICK HERE TO SIGN:
https://you.38degrees.org.uk/petitions/save-hampstead-heath
Vale of Health: hacked to pieces by the dam builders, some heathland that is now a lawn.
OUR OBJECTIVES:
We wish to stop the unwarranted works and building of dams on the small, ornamental ponds of Hampstead Heath which are of no threat to anyone, even in the event of 'the worst storm imaginable.'
1. Save the Vale of Health and other harmless, ornamental ponds from further unwarranted work, damage and disruption.
2. Hold to account those who, knowingly or not, misled the ten councillors into wrongly believing they were receiving independent advise at the Camden hearing: namely Camden Planning and AECOM.
3. Ensure that an iron-clad version of the 1871 Hampstead Heath Act be passed through parliament so that nothing of this sort can ever happen again.
WHY IS THIS IMPORTANT?
It appears Atkins/AECOM/Bam Nutall have now commenced works on the Vale of Health. Realistically this means only 2 of our 3 objectives are 100% achievable. But we will continue to fight so that those responsible are held to account and this manner of financial exploitation of Hampstead Heath can never happen again. We ask all supporters to continue to promote and sign this petition, which will be read out and submitted at a press conference on the 20th of September 2015.
Over 160 trees have been felled and large swathes of protected Heathland destroyed. It's a 4000,000/1 chance but we might still be able to save some of the historic ponds and surrounding natural habitat. Having been misled into believing they were receiving independent expert advice, 6 of the 10 elected councillors at a Camden Council hearing granted permission for large dams and various grass spills to be built on and around the ponds of Hampstead Heath. It turns out the council's supposedly independent advisor, AECOM, had already formed a strategic partnership with Atkins, the civil engineers building the dams and was therefore not independent. AECOM and Camden Council need to be held to account for misleading a council hearing and negligence, respectively.
Moreover, the Vale of Health pond and other ornamental ponds could still be saved unnecessary damage and 'parkification' if the Secretary of State for the Environment, Liza Truss, steps in and prevents this scandalous pillage of the Heath. Please sign this petition to halt or, at least, downscale the works on Hampstead Heath. If one pond can be spared, one tree saved, it will mean some justice for Hampstead Heath.
CLICK HERE TO SIGN:
https://you.38degrees.org.uk/petitions/save-hampstead-heath
Campaign Status: Sadly, Failed. Death Toll: 174 trees.
-------
ASBLOW
THE CAMPAIGN TO BAN LEAF/DUST BLOWING MACHINES
Click here to sign:
https://you.38degrees.org.uk/petitions/asblow-campaign-to-outlaw-noisy-polluting-leaf-blowers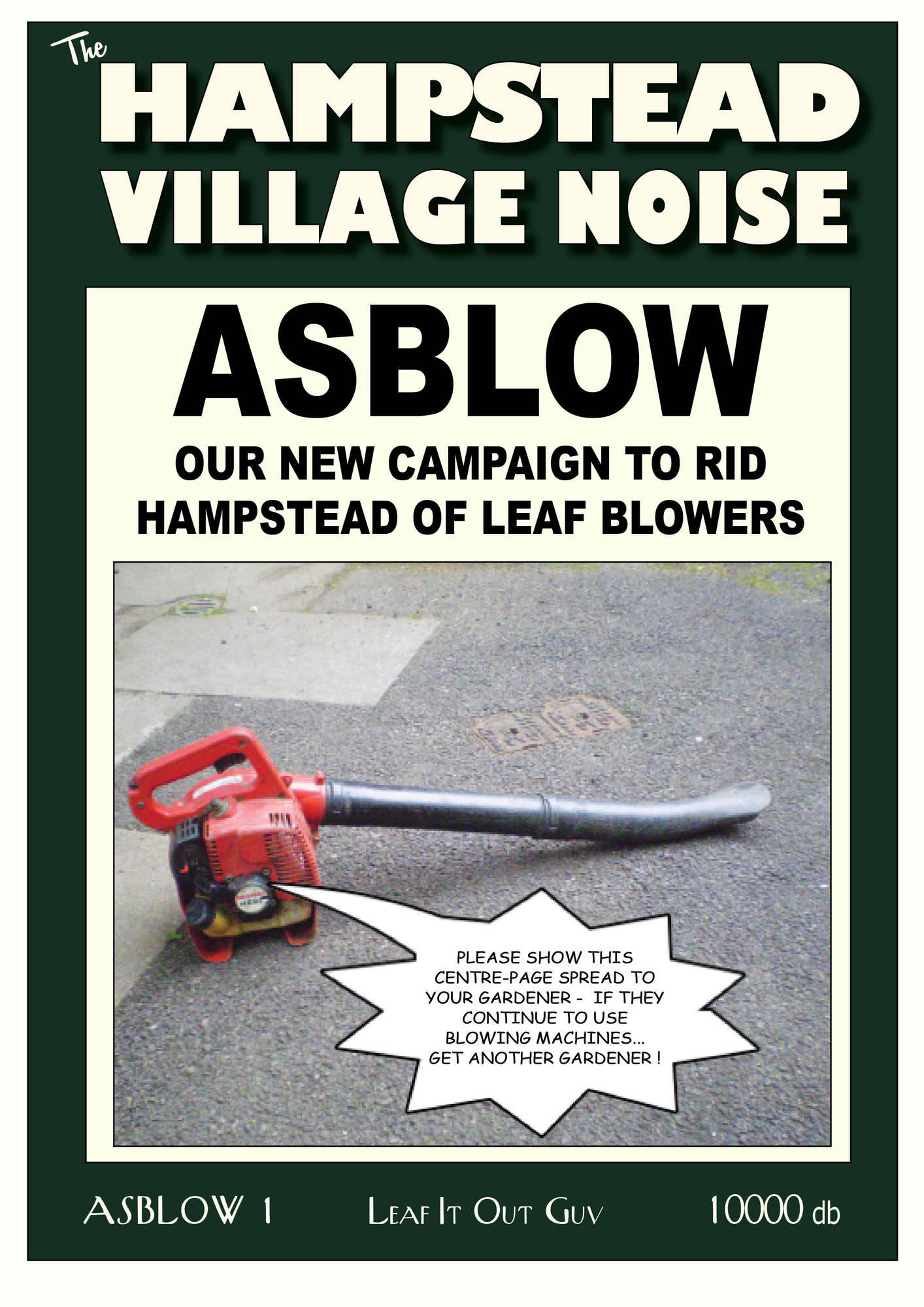 OUR OBJECTIVES:
1. We are calling for legislation to ban noisy and polluting leaf blowing machines from being used in streets, public areas, near schools, hospitals or in private gardens/driveways anywhere in the UK.
2. We are asking gardeners not to use these antisocial machines and that those who employ them to hire only 'blower free' gardeners or insist their current gardeners desist from using them.
Why is this important?
There are several reasons why leaf blowing machines should be banned. Firstly they are ridiculously loud. This causes distress, not only to people (babies, children, the sick, the elderly or anyone trying to work from or simply enjoy the peace and quiet of their homes) but also to pets and wildlife (birds, rabbits, hedgehogs and the creepy crawlies they eat). Secondly, leaf blowing machines needlessly blow dust into the atmosphere causing various problems for small children or those with allergies. You may be at work all day and oblivious to the discomfort and distress they are causing in your neighbourhood. The use of loud blowing machines is inconsiderate, anti-social and detrimental to the quality of life of many citizens. Until the late 1980s these highly inefficient, frankly, stupid machines were non-existent so it is possible to keep a tidy garden or forecourt without them. Please do your bit and sign this petition and if your gardener uses a leaf blower please insist they stop... or, if needs be, get another gardener.
Campaign Status: Not 100% solved but we have noticed an increasing number of gardeners are now using electric blowers... so one small step for serenity in our time. Still a way to go!
_________________________________